Nipple prosthesis: What they are and how to use them
When a woman has had a mastectomy (removal of the breast and nipple) due to the appearance of breast cancer, there are several options to reconstruct the breasts and leave them in a natural way. It is important to know the options well before opting for one of them. Below you will discover what exactly nipple prosthesis is and how to use it.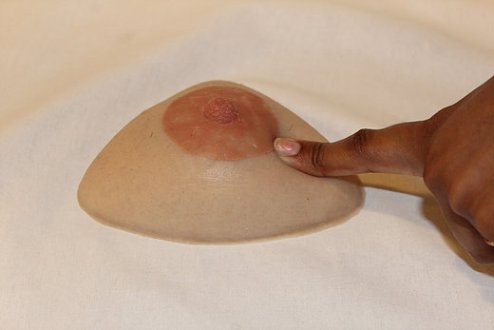 What exactly is a nipple prosthesis?
The nipple prosthesis is used in women who have undergone an operation to rebuild their breast after removal of this in a mastectomy performed to prevent the spread of breast cancer.
This prosthesis of silicone to (material that best fits to the skin) has an absolute realism and is difficult to differentiate from a natural nipple to the touch. They are made of many types, sizes and models so that the woman can choose the prosthesis that is closest to the appearance of her breasts.
Its use does not have any contraindication and avoids going through more operations to rebuild the breasts. In addition to giving them a natural feel.
How to use the nipple prosthesis?
The nipple prostheses adhere to the breast naturally by its shape and material and are very resistant to daily life.
The only care to be taken with it is to clean the area that comes into contact with the breast, so as not to lose grip strength. They can be used daily and even leave them on continuously for a period of days.
At the time of contact with water, there is no problem and the woman can take a bath on the beach quietly without worrying that the prosthesis will take off since it is very rare that without a severe swell this move from its site.
Other alternatives to rebuild nipple
In addition to nipple prostheses, there are other alternatives to rebuild the areola and nipple. The most important ones are:
Reconstruction operation:
With this operation, the doctors construct an areola and a nipple with pieces of hard skin from the removed breast or other parts of the body to implant it, once it is healthy after the operation (3 or 4 months after the procedure) in addition most of the experts use dyes to give a natural tone to the implanted nipple.
Tattoo:
Many women prefer this method, in order not to undergo another operation, the nipple tattoo looks very natural and can be done even in three dimensions to give a total realism.
Question of confidence
Regardless of the technique used to reconstruct the breasts, the most important thing is to regain confidence in yourself. Love yourself and if it's something you want to do to be comfortable with yourself, do not think about it anymore and go to a specialist, it's an easy issue to solve and not worth suffering for it.