Diagnostic of glioblastoma as the basis of therapy selection
Diagnostic of glioblastoma in Germany allows revealing up to 2,400 new cases annually. Glioblastoma multiforme, or GBM, mainly affects adults over 50 years old. At this age nonspecific signs of GBM may be caused by a number of cardiological, hematological and other reasons.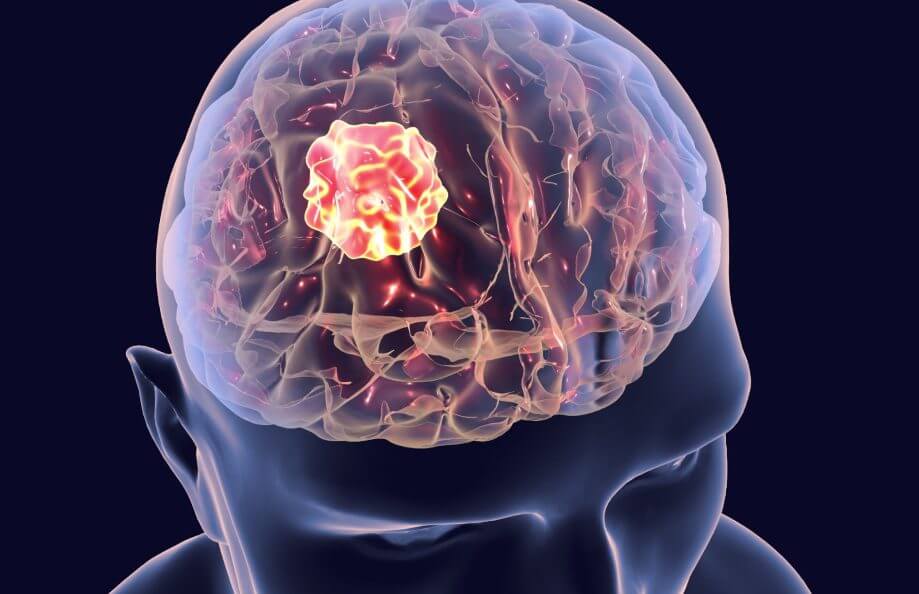 That is why careful visualizing and histological diagnosis is obligatory for the treatment planning. The most effective scheme of glioblastoma treatment includes surgery followed by the radiation therapy and temozolomide administration. The new therapeutic approaches are being tested in the clinical trials along with diagnostic procedures for the early disease detection.
Worrying clinical signs
Glioblastoma tends to fast growing with blockage of the cerebrospinal fluid flow and compression of the nearby brain. Tumor also causes swelling of the surrounding cerebral tissue. Glioblastoma symptoms typically arise exactly at this stage:
Drug-resistant seizures.
Headaches with nausea and vomiting (more severe in the morning).
Labored speaking, hampered attention focusing and thinking.
Numbness or sensory disturbances in the lower extremities.
Vision impairment.
Affection of the superficial and deep face sensitivity.
Personality changes, mood swings.
Having few constant symptoms, it is better to visit a general practitioner or neuropathologist.
Diagnostic tests for the diagnosis confirmation
Neurological examination provides doctor with the basic clinical information. The primary physical examination includes checking reflexes, estimating muscle strength, performing coordination tests, etc. In German clinics, instrumental tests are always performed if brain cancer is suspected:
MRI is the first-line diagnostic test that includes conventional examination, MRI with the injection of contrast material, functional and perfusion MRI. CT scan and positron emission tomography are also used, especially when metastasizing is suspected.
Biopsy, which is harvesting a sample of the suspicious tissue, provides material for the immunohistochemical and histological examination. It may be performed as the separate procedure, before the treatment, or during the surgery. A newer option, the stereotactic needle biopsy, allows reaching tumors in the sensitive brain areas.
A medical team elaborates the comprehensive treatment scheme based on the received results. This may include cooperation of neurologists, neurosurgeons, oncologists, cardiologists, etc.
Conventional and novel treatment options
In Germany, therapy is primarily based on the internationally approved protocols:
Surgery with partial tumor resection or removing the whole neoplasm.
MRI-guided laser ablation (stereotactic radiosurgery) is more sparing and precise tumor destruction that is carried out under the intraoperative visual guidance.
Chemotherapy with such first-line agents as temozolomide and/or lomustine. It is typically applied in patients with specific methylation status of the MGMT promoter.
Radiotherapy and proton therapy are helpful in consolidating surgery results or may be used as the first-line measure in patients with inoperable tumors.
Immunotherapy (dendritic cell vaccine) is administered as the additional measure, only in eligible patients.
In addition, newer treatments are being implemented, like idea of CUSP9 (Coordinated Undermining of Survival Paths by 9 Repurposed Drugs). It includes adding 9 non-conventional drugs to the standard treatment protocol: minocycline, aprepitant, disulfiram, auranofin, itraconazole, ritonavir, celecoxib, captopril, and sertraline.
Undergoing therapy abroad with Booking Health
Patients from all countries can undergo treatment and diagnostic of glioblastoma in Germany. It should be taken into account that international patients need to receive treatment invitation, prepare additional documents, and manage all the organizational issues.
Patients with little or no relevant experience may contact Booking Health – the certified medical tourism operator that works with people from over 70 countries. Booking Health will help you in:
Making choice among TOP hospitals.
Booking the appointment or admission date.
Investigating and understanding the medical program.
Buying and forwarding of medicines, if necessary.
Providing favorable treatment costs, saving up to 50% due to extra fees exclusion.
Control of the expenses, return of unspent funds.
Organization of follow-up procedures and consultations.
Booking hotels and tickets, transfer organization.
Services of the medical interpreter, documents translation.