How to lose weight with menopause
Menopause is the time when the ovaries of a woman stop producing eggs due to the decrease in the levels of the hormones called estrogen and progesterone produced by the body. This stage usually begins between 45 and 55 years and is characterized by hormonal imbalances suffered by a woman's body, bringing with it symptoms such as hot flashes, sexual disorders, stress and joint pain, among others.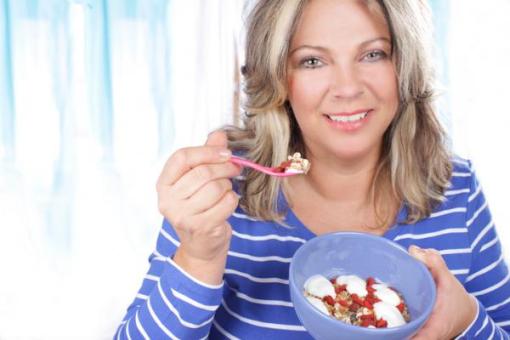 Due to this hormonal imbalance, it is also easier to gain weight because, although we continue to eat, as usual, the metabolism slows down little by little. Therefore, many women who spend this stage of their life trying to lose those kilos so annoying. If you are one of them and want to achieve your goal, in this article we explain how to lose weight with menopause in a healthy and balanced way.
How to lose weight at 50
Weight gain during this period is caused by the alteration in hormone levels that are causing increased fat accumulation, especially in the abdomen, that is where the female stores a hormone estrone, a type of estrogen, which needs fat to get metabolized. Therefore, if we decide to go on a diet with menopause, it is appropriate that we should be cautious with our health.
Diets to lose weight during this feminine stage should not be composed of strict feeding, but must be made up of a variety of foods rich in minerals and vitamins, as well; we will prevent very common problems during this period, especially bone and circulatory diseases.
Therefore, our diet will be composed of 1800 calories, with which we will lose weight more slowly but surely getting the long-term results and we will regain avoiding those extra kilos.
Slimming foods in menopause
As we have explained, to lose weight healthily in menopause, we take a diet, especially in the following minerals and vitamins:
Calcium
It is an essential nutrient for strong, healthy bones. During menopause, it is vital to lead to a diet rich in calcium and to avoid diseases such as osteoporosis. Dairy products are a rich source of this mineral but also has calcium foods such as sardines, legumes, almonds, chard and broccoli.
Iron
Some women tend to develop disorders like anemia during this phase of their life. Anemia develops due to lack of this mineral, which will try to include in your diets rich in this nutrient, for example, meats such as liver, nuts such as walnuts and pumpkin seeds, vegetables green leaves and fish like salmon.
Vitamin D
This vitamin is vital for a balanced diet as it is necessary for our body to absorb calcium properly. Therefore, if you do not want to have a deficiency of this mineral, it is imperative that you take vitamin D-rich foods like eggs, fish oil and liver.
You can also consume it through the sun, so you can expose yourself 15 minutes a day in hours where sunlight is not very intense for correct levels of this vitamin.
Fiber
Fiber is also an important nutrient during menopause because it improves our digestion, prevents constipation (very common symptoms during this period) and thus reduces bloating. Some foods rich in fiber are fruits, vegetables and whole grains.
Diet to lose weight in menopause without pills
Here's an example of diet so you can start losing weight evenly during menopause:
Day 1
Breakfast: Tea with lemon sage (on an empty stomach), one glass of semi-skimmed milk and whole wheat toast with sesame seeds.
Mid-Morning: A yogurt with whole grains.
Lunch: Brown rice with vegetables, an orange and an infusion.
Snack: An infusion and a piece of fruit.
Dinner: Fish with a vegetable salad.
Day 2
Breakfast: A cup of semi-skimmed milk, a kiwi and a sandwich with wholemeal bread.
Mid-Morning: An infusion and semi-skimmed yogurt.
Lunch: Baked sardines with arugula salad and sesame accompanied by a piece of fruit.
Snack: An infusion and a few nuts.
Dinner: Grilled hake with steamed broccoli.
Day 3
Breakfast: Two yogurts with oatmeal, five strawberries and a whole toast.
Mid-Morning: Green tea infusion with an orange and a handful of almonds.
Lunch: Grilled fish with salad of different vegetables and a yogurt with chia seeds.
Snack: Lemon mint tea and a piece of fruit.
Dinner: Quinoa and zucchini omelet with roasted peppers.