Remove the gray: 5 Natural Remedies
Gray hair, or hair pigmentation loss, can be plugged with natural remedies, as substitutes for conventional dyes and, especially, in cases of scalp tenderness. It is also an option to consider if the hair is dry with each color. We propose 5 natural remedies to darken gray hair.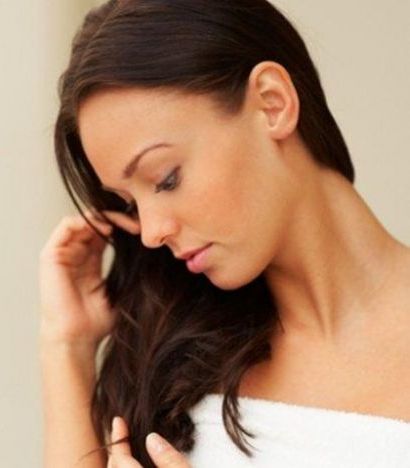 Is it possible to prevent the onset of gray hair? It may slow, especially when gray hair appears at a young age, at 20, for example, and can also be covered. The frequent use of dyes can lead to some side effects, weakening the hair or make it less resistant. The colorations with hydrogen peroxide and ammonia can irritate the scalp and also favor the emergence of another unsightly hair problem, dandruff.
Premature gray causes
Heredity directly involved in the early onset of gray hair, but not the only factor to consider when it comes to finding out what influences the pigmentation of the hair loss. Food is key to the health of our hair, not only to keep it strong but to prevent discoloration. Thus, copper deficiency, iodine may be behind the first gray hairs. Lack of copper accelerates the loss of hair color. To avoid this, added to the diet peas, nuts, mushrooms, whole grains, avocado or beans. If the problem is lack of iodine-weakens the hair root, increased consumption of fish, shellfish and seafood. The snuff and alcohol also can accelerate the onset of gray hair.
Natural remedies for gray hair
To darken or cover gray, we propose to use natural remedies, with these five solutions. Takes note.
Salvia
It is specially designed for brown hair. Salvia is a plant with many properties and applications, including removing the first gray hairs. To do this, use an infusion of salvia and black tea to rinse hair after washing. To prepare the infusion, mix 20 grams per plant and simmer, boil them in half liter of distilled water.
Rosemary
For darker hair. An infusion of rosemary (four tablespoons mixed in half liter water) helps cover the reeds in the darker hair. Rosemary also helps strengthen hair roots. For best application, use a diffuser with spray and sprayed all the hair with infusion. Naturally, with the passage of time, the hair will go dark.
Turmeric and Chamomile
Mix recommended for blond or brown hair. An infusion that will bring to our hair beautiful golden reflections to better disguise the reeds. For infusion, mix four tablespoons of chamomile in half liter water. Once filtered, we use infusion to rinse hair after washing. Chamomile is one of the natural remedies for known hair care. If we want a honey tone, use two tablespoons of turmeric powder, and the mixture, clarified hair.
Henna
From well known, henna is specially designed to cover the gray hair in mahogany hair color. Mix a package of henna hair powder – which can be purchased at the herbalists – with an infusion of red tea and a little olive oil to make a paste. Apply on the hair and let it work for two to four hours. Then rinse.
Avocado oil, coconut oil and argan oil
Three allies to moisturize hair, a risk factor for the onset of gray hair. With these three ingredients can prepare a mask. We manage to moisturize dry hair with avocado and coconut and argan oil. To enhance the effect, cover the hair with a hot towel and leave on for twenty minutes. In the case of greasy hair, apply on hair jojoba oil, a liquid wax, moisturizing. Leave on for 20 minutes.